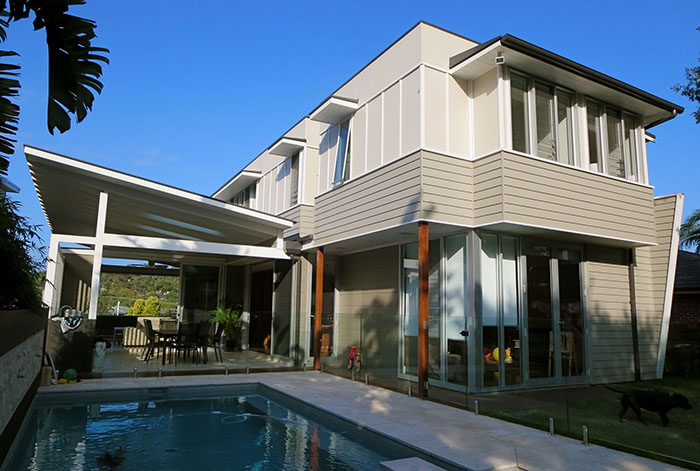 Description – NEW RESIDENCE
Location of Project –  MONA VALE
Year Project Commenced – 2011
MHDP is regarded highly as a "builder's architect" – being flexible and inteligent about sensible and cost effective construction without losing sight of the design goal.
MHDP has been pleased to work with many builders on their own homes.  The Mona Vale 2 house is the result of the long-term collaboration between MHDP and Cutting Edge Building.  The result is a beautifully crafted and constructionally clever design that speaks very strongly of its Northern beaches locality.  MHDP is regarded highly as a "builder's architect" – being flexible and intelligent about sensible and cost effective construction without losing sight of the design goal.
My relationship as a builder to MHDP Architects goes right back to 2006 with our first project together and then onto a journey that spans greater than 20 projects, and I have to say it has been the most rewarding and inspirational time of my career.
We have built small extensions and cheap functional additions right though to top end housing projects, renovations and multi-unit developments. MHDP is highly capable of providing top quality designs and project management to suit any clients budget and desires.
They are highly professional in every aspect of their business, actively listening to client's problems or issues with an open mind and ensuring that communication remains open, honest and see through from beginning to end. I can always be a quick phone call or email from being in contact with an architect that can help me solve a problem or make an on the fly descion without the delays and red tape I've experienced with other companies. The MHDP projects always run beautifully smooth beginning to end.
I do love building MHDP designs, they design truly beautiful and artistic houses, yet they always remain "buildable". I don't believe I've ever received a design or detail that has ever been so architecturally fanciful that it could not be built using current methods or available materials. This is quite an important quality to have as an architect as it creates a faster build time not having to invent details from scratch and pays off twice fold by saving the client money.
Their performance is second to none and their concern for client's value for money is always a number one priority.
When problems do arise on site as unfortunately, they can do with Contractors/ authorities and neighbours etc., I'm always confident that MHDP will be there to help negotiate a suitable outcome for everybody and this has been a great help over the years.
Mark has designed my last family home of many years and currently in the process of designing our future home too. I can proudly say that I've loved living in the last house as it was a beautiful and functional house which also gave a substantial profit on the way out. He nailed the design first go, after my own many attempts at coming up with something failed.
The same has to be said for the latest concept, Mark has a knack and vision to come up with the perfect design with ease.
I would highly recommend anyone to give MHDP a go for their future projects, and I'd be confident you will have an enjoyable experience through the process and end up with an outstanding design.
LANCE HORTON
DIRECTOR CUTTING EDGE BUILDING PTY LTD