PANORAMA PARADE SUBDIVISION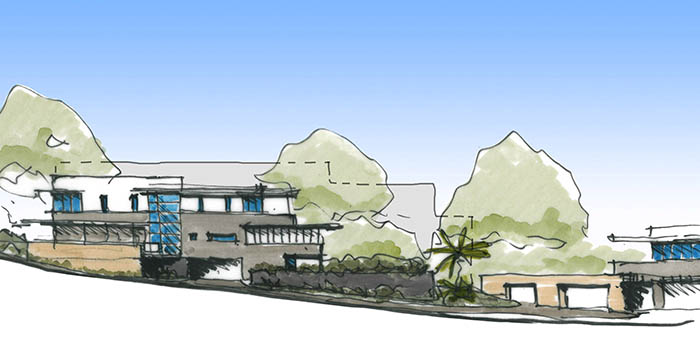 Description – SUBDIVISION AND THREE NEW RESIDENCES
Location of Project – SEAFORTH
Year Project Commenced – 2015
In outline this was a "get 4 houses from 3" strategy fully managed by MHDP, that resulted in a very positive financial return for the Client.
MHDP fully coordinated this project on behalf of the Client – from concept right through to marketing of the development – to drive the value of his residential holdings. Taking a collection of three adjoining lots, including the Client's own home, MHDP produced a design that could amalgamate and then re-subdivide the three existing sites into four properties.   Getting a "4 from 3" outcome and watching the construction costs and market value all the way through created a very positive financial return for the Client. 
The houses were each a unique answer to their location – maximising water views and sunlight with landscaped gardens and pools.   Working with interior designers Baxter + Thrum, a palate of interior materials and finishes was chosen to strike a note of difference that worked with the architecture, while at the same time remaining appealing to the widest market possible. 
I have used MHDP Architects for six years across a broad spectrum of Architectural projects: a commercial high-rise planning proposal, multi-home residential, apartment and a personal home renovation.
At the beginning of any project Mark and his team are very quick to get across the brief and put together excellent concepts which become the foundation for further discussion and design. One feels the desired outcomes are well understood and always front of mind.
I remember the first ever project Mark was invited to quote.  He was head and shoulders ahead of any competition having studied the brief, analysed the landscape and hand sketched a concept. Mark went well beyond the extra mile than any of the opposition who auditioned.
Mark and his team are at all times enthusiastic and on top of the detail. They are structured in their design and build methodologies along with their project management processes. Value for money is a priority leading to budgets that are thorough, tested and well documented. One is never left wondering how the actuals are comparing to budget or expectation. Changes are inevitable along the design/construct journey however any anomaly is embraced, analysed and dissected to avoid any confusion or repetition and before assimilation into the project. 
I have found Mark to be very practical with his approach and design – giving suitable architecture and style priority but not at the expense of functionality.  Led by Mark, the team works well with the builder managing the project, maintaining good working relations and respect.
I have no hesitation in recommending MHDP Architects for any architectural project and I'd be happy to act as a reference at any time.
PETER WOODLAND
MANAGING DIRECTOR