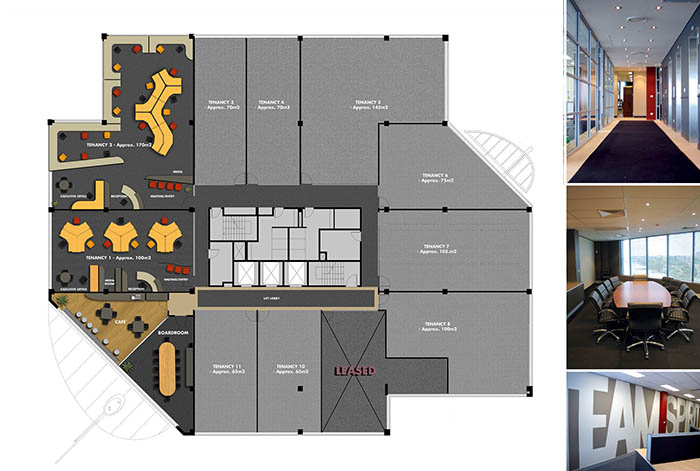 Description – GATEWAY BUSINESS PARK
Location of Project –  SILVERWATER
Year Project Commenced – 2002
MHDP's involvement in cost-effectively "Re-badging" this commercial estate turned it from no more than 75% leased to fully leased in 12 months.
When our Client purchased the site in 2002 the mixed use industrial unit office space development had never been more than 75% leased.
A study of the building with our Client determined a number of critical issues.  The building itself while substantial and well located had no presence in the streetscape. The entry to units on the main road were not identifiable nor accessible from the car parking at the rear of the site.  Car parking was inadequate and the isolated nature of the site had no catering facilities for tenants.
The solution was a re-badging of the building, essentially a graphic exercise creating character and identity to both the building and individual tenancies and their entries.  A deck was added to the car parking area.  The deck included planting and distinct graphics to relate to the building.  A security entry pavilion and a Café were also added.
The resulting works altered the market perception of the property and within 12 months the building was completely leased and existing leases had all increased.
I have known Mark in a professional capacity since he commenced his practice and is my architect of choice.  He has effectively and enthusiastically completed assignments on a range of residential, industrial and commercial projects delivering workable and creative solutions.
What differentiates Mark is his willingness to listen to what the client wants to achieve.  He typically then delivers a number of options so that in arriving at a decision your boundaries are stretched.
His enthusiasm and professionalism has never wavered, be it a colour scheme for an industrial complex, to a residential project or to a major CBD development.